We Make Energy Independence Easy
By clicking "Submit" above, I authorize Earth Right Mid-Atlantic to call me and text me about our products and services at the telephone number I entered above, as well as reach out to me via email to the email provided above. Message and data rates may apply. You can opt out anytime, and your contact information is never given to any third party. You also agree to our Terms of Service.
Home Energy Improvements
& Solar Installations

Having the two sides of the company allow us to work on projects ranging from small energy efficiency upgrades to full home solar systems.
Home Energy Improvements
& Solar Installations
Our solar division and energy efficiency division allow us to work on projects ranging from small energy efficiency upgrades to full home solar systems.
Customized Solar packages
Roof and Ground Mounts
Power-bill Relief
New Roof Options
Power Back-Up Options
Reduce Energy Waste
Increased Home Comfort
Extend Roof and HVAC Lifetime
Creating a Healthier Environment in the Home
Reduced Power Bills
Brand New - First of It's Kind
In 2022, Earth Right Mid-Atlantic was given a once-in-a-lifetime opportunity to partner with Lynchburg Parks and Recreation to give back to the Lynchburg community and create America's first hands-on sustainable energy learning experience for all ages.
A Process Designed for You
No home is the same, and by performing a simple free home assessment we can show how you can benefit from solar and energy efficiency upgrades. Big decisions should always start with transparent conversations, and we want to equip you with all of the information you need to decide if solar is right for you.
After visiting with you, we take the information gathered from your free on-site home assessment and build you the most efficient system that our professional energy consultants recommend. Once we have put together your custom built energy-savings plan, we walk you through all of our recommendations.
There has never been a better time to go solar, and we want to provide you with a more efficient home, a lower power bill and a positive environmental impact. Bonus - you'll become a part of our Earth Right Mid-Atlantic homeowner family!
Begin Saving with a No-Cost Home Inspection
See what homeowners are saying!
See What our Local
Customers are Saying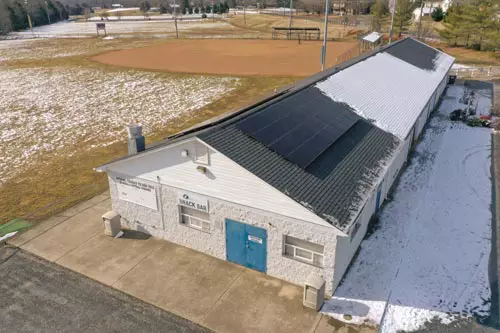 We believe in investing in our communities, which is why we partner with different local businesses, organizations, and groups whenever we have the opportunity.

In 2021, we partnered with the Forest Youth Athletic Association (FYAA) to install solar on their facility and assist in their mission of providing a place for our youth to have an athletic outlet.
Partners we have worked with

Residential and Commercial Solar Power Company
Earth Right Mid-Atlantic is your go-to residential solar power company based out of Lynchburg, VA and serving the entire state. We are knowledgeable solar panel installers with a focus on improving home energy efficiency and providing simple solar solutions at an affordable price. By taking advantage of our affordable home solar panel systems, anyone can reap the benefits of smarter, cleaner energy.
Solar Power and Energy Efficiency
You can make your home more energy efficient with a solar attic fan and reflective insulation, which will allow you to save money and lower your power bill. With customized solar packages, roof replacement packages, power backup options, and more, your home will become much more efficient. You will enjoy increased comfort and a healthier interior environment, as well as reduced power bills and less energy waste. As long as the sun continues to shine, you will have access to solar energy. The more electricity that you generate, the less you will be using from your utility supplier.
Get Started with an Assessment
Are you ready to find out if solar power or energy efficiency is the best option for you? We offer free home energy assessments to evaluate your home's solar potential, inquire about your solar goals, and assess your current energy bill to determine the amount you could be saving each month. Give us a call to get started today at (434) 200-9716. When you call, be sure to ask how the new 30% tax credit can work for you!
The Process Begins with an Assessment
Let's see if solar or energy efficiency could be a good option for you. With a no-cost assessment, we can talk about your goals, check your roof, and assess your current energy bill to see what you could save.
See If solar is a good option for you